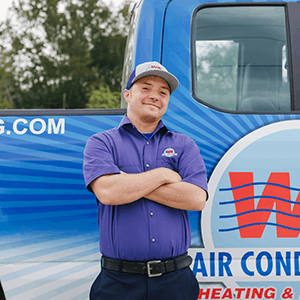 Austin Caldwell
Installer
67 Reviews
Since: 2019
Trained and certified in the following:
Top Tech Lead Install Class
Top Gun BDR Service Class
EPA Certified
TDLR Certified AC/Refrigeration Tech
UTA Advanced Service Diagnostics
NATE- Air Conditioning
ACE Service Technician Affinity Heat Pump
Air Conditioner Repair in Trinity, TX 75862
"Austin's customer service was top notch! I highly recommend WA Air Conditioning to anyone in need of AC services. Excellent service"
- Tammy C.
Air Conditioner Repair in Trinity, TX 75862
"Helped the best he could and pointed us in the direction of someone to give us an estimate. Really nice and helpful."
- Destiny G.
Air Conditioner Replacement in Willis, TX 77318
"Best AC Company for honesty, reliability, integrity & knowledgeability! Been using this company for almost 12 years. You can totally count on satisfaction guaranteed on everything from A-Z. You will not find anyone that goes the extra mile and works above & beyond for customer satisfaction like WA does! The office personnel, installers, technicians & owners are always polite & willing to please their customers 100%! Thank you Craig for hiring the very best people to represent your outstanding successful company. I cannot brag enough for every person involved in our recent AC replacement. Craig, you should be so proud having these people representing you in such an outstanding way. Thank you Josh for always keeping us well maintained & for being my own personal technician! Scott did an amazing job overseeing & helping with the replacement. The 3 installers (Javier, Emilio & Austin) provided superb workmanship assuring everything was perfected very neatly. It's pretty amazing watching these guys work hand in hand together. Their personalities & performance was unbelievable! WA Air Conditioning will always be my go to AC Company! It's very rare to find such an honorable company. Thank you all for patiently taking the time to answer my questions & explaining things."
- Donna S.
Air Conditioner Repair in Trinity, TX 75862
"Displeased with current HVAC company so we wanted another opinion. Austin is very thorough, knowledgeable and respectful. Took time to explain and answer all questions. Performed diagnostics that our current HVAC company never has in the 8-1/2 months we've had a contract with them, even being called out for the same issue. Absolutely would welcome back and recommend to all we know!!"
- Jim S.
Air Conditioner Repair in Trinity, TX 75862
"Phenomenal customer service from these gentleman. They went ABOVE and BEYOND in this cool Texas heat sitting up in our attic to fix the issue to get our unit working. We will never use another company, you won't regret calling them!"
- Lauren P.
Air Conditioner Repair in Lovelady, TX 75851
"Very polite and did a very good job"
- Billie R.
Air Conditioner Repair in Trinity, TX 75862
"Austin was very helpful, professional and knowledgeable. It was obvious that he knew his profession very well. After a quick troubleshoot, he told me exactly what he was going to do to correct the problem, and made the repairs successfully."
- Raul Q.
Air Conditioner Repair in Huntsville, TX 77340
"Such a nice respectful young man serviced our AC. I hope I got his name right. He fixed the capacitor quickly and the house is already cooling down. So thankful."
- Kathleen H.
Air Conditioner Repair in Riverside, TX 77367
"Great service and response. Always very nice and courtesy. Thank you Austin for doing a great job!"
- Bobette M.
Air Conditioner Repair in Trinity, TX 75862
"Austin arrived and found out the fan blower in the outdoor unit was bad along with a contact. At first he thought that the part would have to be ordered and he called Josh. After discussing it and making sure it was the outdoor unit, Josh thought there was one in the shop. He found it and brought it by and Austin and Josh changed out the parts needed and now we are just waiting for the temperature to go down.
Both, Austin and Josh were very polite and explained things to where I could understand. My husband is disabled and it would have been hard on us to relocate temporarily. Austin had asked Josh about putting in a window unit if they didn't have the part. I'm glad they didn't have to do that but appreciate that Austin thought about it.
I even signed up for maintenance so I can be sure the unit is operating efficiently.
Thank you Austin and Josh for helping us."
- Jacky D.