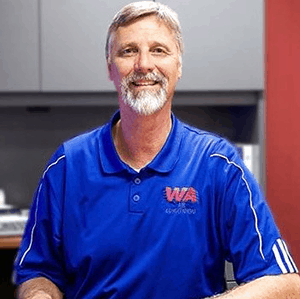 Craig Clarke
Owner/Manager
3 Reviews
Since: 1992

Years at WA Air Conditioning: 28 Years Overall Experience: 39 Years As the owner Craig enjoys providing customers with the best quality care the first time.
Air Conditioner Installation in Trinidad, TX 75163
"I called WA in a hot panic! It was the middle of the summer, and my unit was shot! I was greeted with open arms, and my unit was replaced immediately. I'm now enjoying hot days with my new multi stage variable speed unit and my hot panic has turned into cooooool evenings!
WA Air has my business for life!!"
- Andrew G.
Air Conditioner Repair in Other, TX 77351
"Craig and Ronnie were very professional, polite, and very responsive to my issues. AC went out very late Sunday night and I called them and there were there Monday morning first thing. They even gave me an option for them to come out Sunday night but it was pouring rain so I decided to have them come out on Monday. They were there first thing Monday morning. They quickly found the issues, made repairs, and then check out the entire system to ensure it was working properly. I would recommend them to anyone. I am very pleased with the company and their overall professionalism and their expertise."
- Robert R.
Air Conditioner Replacement in Huntsville, TX 77320
"Top notch service and quality work. I highly recommend this company for HVAC service."
- Chuck M.