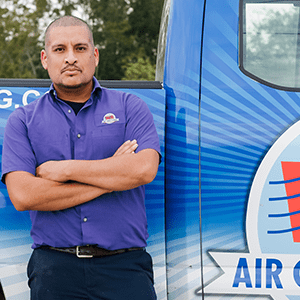 Javier Reyna
Installer
9 Reviews
Since: 2005
Trained and certified in the following:
Top Tech Lead Install Class
Top Gun BDR Service Class
EPA Certified
TDLR Certified AC/Refrigeration Tech
UTA Advanced Service Diagnostics
NATE- Air Conditioning
ACE Service Technician Affinity Heat Pump
Air Conditioner Replacement in Trinity, TX 75862
"We have used WA Airconditioning for several years. We had a new compressor installed. Thanks to Scott for being able to get the unit installed earlier than planned. The young men that did the installation were very efficient , nice and got us cool again. Thank you WA and staff…"
- Linda J.
Air Conditioner Installation in Trinity, TX 75862
"WA always does a great job!!"
- Gill C.
Air Conditioner Maintenance in Trinity, TX 75862
"From the first phone call for service to the final installation, all of these employees gave us excellent service. We have dealt with many contractors in the last 4 months and this company is by far the most professional, friendly, hardworking and customer-oriented in our experiences. Thanks so very much for everything."
- Jerome and Judy B.
Air Conditioner Installation in Riverside, TX 77320
"W A Air Conditioning workers: Austin, Emilio, and Javier kept the floors protected and clean as they installed our air conditioning unit. They were polite and did and excellent job. They explained the new thermostat settings and made sure everything was clean before they left. Thank you W A Air Conditioning for hiring such competent employees!!"
- Lynn H.
Air Conditioner Installation in Trinity, TX 75862
"Great service! We needed a new a/c unit and they were quick and always keeping us updated as to when the parts were in. The installation service was awesome! They were very friendly and did a great job!!"
- Kendra H.
Air Conditioner Repair in Trinity, TX 75862
"The service tech were very professional and pleasant to work with"
- James T.
Air Conditioner Repair in Trinity, TX 77532
"My serviceman was Javier, he is very professional and very knowledgeable about his trade. I will recommend WA Air Conditioning to anyone in need of repairs to their AC or Heating systems."
- David H.
Air Conditioner Installation in Trinity, TX 75862
"From start to finish the WA method of selling and installing our air conditioning system was outstanding. Scott presented the sale in a helpful and informative way. He then did regular follow up during installation. And, followed that up after installation to answer questions and teach us how to use the thermostat. The installation crew of Javier, Austin and Emilio were on time, quick, efficient, careful with clean up, but most of all courteous to a fault. They got the installation done, the old unit picked up and hauled away, and cleaned up debris, in a day and a half. We will gladly recommend WA Air Conditioning for the quality of the work, the quality of the people, and the quality of they product they sell."
- Frank c.
Heat Pump Replacement in Trinity, TX 75862
"Very pleased. Did a great job. Took out old units and cleaned up everything. Also stayed until I understood how to work new thermostat. Friendly and professional."
- Joyce M.