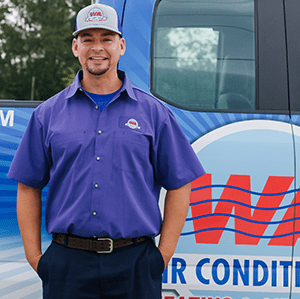 Josh Gutierrez
Service Manager
46 Reviews
Since: 2002

Years at WA Air Conditioning: 18 Years
Overall Experience: 18 Years
Josh brings 18 years of experience and loyalty to W A. His commitment to excellence and customer service precedes him. He is highly certified and has a degree in business management.
Gas Furnace Maintenance in Huntsville, TX 77340
"Josh always does a great job. Thanks!"
- Chuck M.
Maintenance in Trinity, TX 75862
"Just moved – needed an honest evaluation on move in day"
- Richard K.
Air Conditioner Maintenance in Huntsville, TX 77340
"They are amazing and super friendly. Been using them for a few years and Josh has always been super helpful and quick."
- Jennifer V.
Air Conditioner Repair in Huntsville, TX 77320
"The technician was very knowledgeable and courteous. We called to to a plugged drain pan line. He also checked our system and found a bad relay which saved us money finding it now rather than later. We are very pleased with the service provided."
- Bobbie F.
Air Conditioner Repair in Huntsville, TX 77320-0205
"Josh did an excellent job troubleshooting the problem with our a/c. He discovered a problem in our breaker box. He was able to come up with a solution that would allow our a/c to continue working until we get an electrician fix the problem in our breaker box. Thank you Josh!"
- Mike C.
Air Conditioner Repair in Trinity, TX 75862
"Josh was very polite and got the job done fast"
- Deborah O.
Air Conditioner Replacement in Willis, TX 77318
"Best AC Company for honesty, reliability, integrity & knowledgeability! Been using this company for almost 12 years. You can totally count on satisfaction guaranteed on everything from A-Z. You will not find anyone that goes the extra mile and works above & beyond for customer satisfaction like WA does! The office personnel, installers, technicians & owners are always polite & willing to please their customers 100%! Thank you Craig for hiring the very best people to represent your outstanding successful company. I cannot brag enough for every person involved in our recent AC replacement. Craig, you should be so proud having these people representing you in such an outstanding way. Thank you Josh for always keeping us well maintained & for being my own personal technician! Scott did an amazing job overseeing & helping with the replacement. The 3 installers (Javier, Emilio & Austin) provided superb workmanship assuring everything was perfected very neatly. It's pretty amazing watching these guys work hand in hand together. Their personalities & performance was unbelievable! WA Air Conditioning will always be my go to AC Company! It's very rare to find such an honorable company. Thank you all for patiently taking the time to answer my questions & explaining things."
- Donna S.
Geothermal Heat Pump Maintenance in Huntsville, TX 77320
"Josh is knowledgeable and always discusses with us the problem and the possible solutions. He always researches problems and finds the correct solution."
- Siobhan D.
Air Conditioner Repair in Trinity, TX 75862
"Got my a/c working until parts come in."
- Deborah O.
Air Conditioner Repair in Trinity, TX 75862
"Phenomenal customer service from these gentleman. They went ABOVE and BEYOND in this cool Texas heat sitting up in our attic to fix the issue to get our unit working. We will never use another company, you won't regret calling them!"
- Lauren P.